http://z4.ifrm.com/30294/192/0/p1145345/trrtimes.png
Special Release, March 04 2014
Milograd Resigns – Voting Begins
COMMENTARY | UNIBOT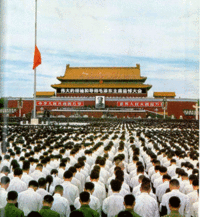 The Forbidden City honors their departing Chairman.
Chairman Milograd has announced his resignation as delegate and chairman of the People's Republic of Lazarus – in a surprise move, although his tenure was always expected to be short (yet industrious).
"I think I've done good work and I'm proud of the work I've done," says the Chairman. "Under the guidance of Francoism, our community has made historic strides that defied all expectations and we're the most active sinker around right now – for ten years before, we were known for being a chronically inactive pool. To have made such a turnaround so quickly is an incredible feat. We did that. We should be proud of that".
During his time as Chairman, Milograd oversaw the revitalization of Lazarus – this included the industrialization of Lazarene culture, the reformation of the Lazarene forces and the development of a new justice system.
The Chairman, besides citing real life as one of the reasons for his sudden resignation, also explained that he wants to avoid a legacy of "political dynasties" in Lazarus – preferring dynamic leadership and activity.
"With all that work done, I think it's time for me to let someone else try their hand at being delegate," says Milograd, "The delegacy – our delegacy – isn't suited for the sort of long dynasties that once condemned us to the very inactivity that I've worked to eliminate. We need to be dynamic in our leadership but constant in our success, cause , and beliefs".
Nominations for the new Chairman were open for a brief period before being closed – during that time, our senior correspondents have informed us that the nominees include Stujenske, Hobbes and Kazmr. Stujenske is the longest serving native out of the bunch, while Hobbes and Kazmr have been prolific in the LLA and the Lazarene Gazette. The elections are expected to be competitive – given all three candidates are experienced choices. We'll have more on the elections later; but until then, The Rejected Times sends its well wishes to Lazarus: Happy Elections!