TEP ELECTIONS UNDERWAY!
October 20, 2013.
EMBASSY DISTRICT, THE EAST PACIFIC – Today, A Mean Old Man left his darkly lit lair (which smells of butterscotch and tobacco, whilst littered in coupon clippings) for a rare appearance in front of a sea of residents in The East Pacific; these lucky residents had been camping outside of his residence to get a glimpse of "the old one". Approaching the sizable crowd with a familiar grace and a rather questionable taste for stern militancy, The East's curmudgeon announced "it's that time again…", at which point, members of the Adspam, Imperialist, Defender and Nazi communities could be seen leaving the square in droves…
"… wait, not time for that. I meant elections," shouted A Mean Old Man, sensing he was losing the crowd.
Gameplayers turned around and cheered; "my favorite time in The East Pacific!" said one member. Others affectionately added, "My only time in The East Pacific!"
A Mean Old Man encouraged residents of The East Pacific to apply for citizenship so that they would eligible to vote. To finish his address, he asked rhetorically, "Who will be the next Delegate? You decide in November."
Elections will begin with a week to gather candidates, another week to campaign and a final week to vote … thus we should know who is the next delegate by the end of November. Some candidates suspected by the rumor mill include PrussianEmpire, Hobbesistan and Bachtendekuppen – all of which are fresh new talent in what is shaping up to be a particularly interesting election for The East Pacific.
Nonetheless, I personally would put my money on Peter Capaldi.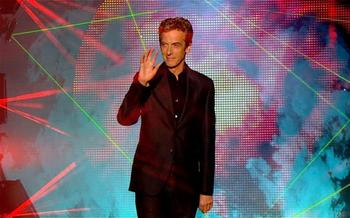 He's so calm and collected while all of those lasers are pointed at him!