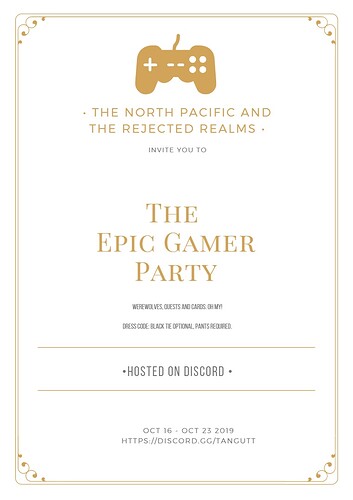 Announcement: Epic Gamer Party
Invite:
TNP Games
The North Pacfic and The Rejected Realms are pleased to announce that we will be co-hosting "The Epic Gamer Party" a fun event open to all. The event will run for one week (October 16 2019 - October 23 2019).
The Epic Gamer Party will be hosted on the Games Server and will include favourite bot games of Rejects and TNPers including Werewolf, Adventure, and Trivia, and other games such as Codenames, Spyfall, and card games - just to name a few.
We will publish a schedule of activities for particular games so that interested players can plan ahead to make sure they are available for their favourite game.
An invitation will be distributed to our embassy partners in due course. We look forward to your participation and assistance in making this event truly epic.
Kind regards,
McMasterdonia
Delegate of The North Pacific
Kyorgia
Delegate of The Rejected Realms