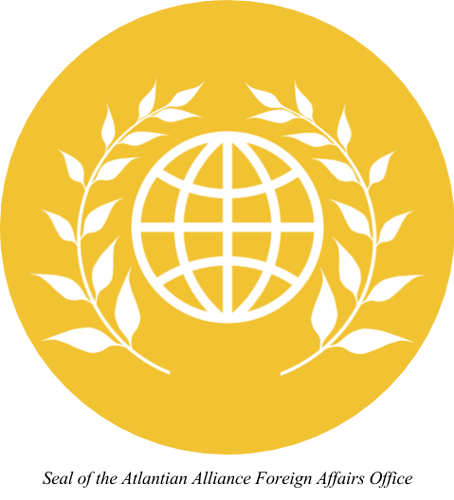 The Atlantian Alliance is a geopolitical organization focused on bringing stability, creating international laws, and opening trade in the region of Atlantia.
Note: This thread/embassy is under construction, so don't mind all the workers. And try not to get hit by something falling. Plus, I'm going to be a bit inactive, and might not get to you immediately.
[spoiler]
First, you have to have territory in Atlantia or any nearby islands. This should be pretty obvious and we can be safe to gloss over that.
Next, you have to have a significant part of your territory in Atlantia or any of its associated islands.
Then, you submit an application form that goes:


[You can put pretty much anything here, but only the below will be considered the actual application. However, we will take note of this.]

**Formal Nation Name:**
**Short Nation Name:**
**Head of State:**
**Official Ideology (or, if not applicable, Current Agenda's Ideology):**
**Type of Government:**
**Any Other Alliances You are in:**

I, [nation], swear that all the above information is true, and wish to join the AA, with all of its associated benefits and detriments. I will work solely to maintain peace in the continent of Atlantia, and never to damage its stability in your own or in another organization's benefit.

[Close this any way you want, but this will also be considered.]


If you need help filling this form out, then contact me, but I might not be able to respond promptly. In some cases, I will ask for information about your Discord account, since you are expected to have one. You will only get that message if I don't already know your Discord info.
Applications are examined by a case by case basis.
Now, you just wait until a response is sent to you with the results. It might take a while.
[/spoiler][spoiler]
The official foreign policy is that alliances with any one nation or organization will not be accepted, but embassy exchanges, trade agreements, and open borders will be allowed. Non-aggression pacts will not be accepted at this time until something is worked out in the interior of the Alliance.
Having an embassy with the AA not only includes having embassies with all member nations, but you get a masking on the AA Discord, since you are expected to have a Discord account. This chat would be used for foreign communications and specifying agreements. Any trade agreements have to be specified in the chat.
IF YOU WANT AN AGREEMENT WITH THE AA, YOU MUST ALREADY HAVE AN EMBASSY. IF YOU REQUEST AN EMBASSY AND TRADE AGREEMENTS, THE EMBASSY WILL BE ACCEPTED, BUT YOU WILL HAVE TO REAPPLY FOR THE AGREEMENTS.
Any diplomatic relationship help between a nation and the AA will in practice be held between all member nations and that nation.
It may take a while to come to a decision, so don't hold your breath.
[/spoiler]
OOC: This place will become fancier as I find more time to improve this post. But I hope you don't expect this change to happen overnight. I've posted this a bit hurriedly, so it certainly has room for improvement.