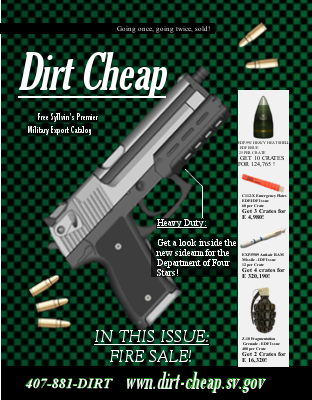 GREETINGS! THIS IS [size=100]DIRT CHEAP! HERE IN FREE SYLLVIN, GUNS ARE GOLD. THERE ARE TWENTY-SEVEN UNIQUE ENTITIES THAT PRODUCE WEAPONRY FOR THE MASSES NOT INCLUDING THE GOVERNMENT ITSELF. OUR PRODUCTS ARE BIG AND SMALL, FROM ARMORED VEHICLES TO AMMUNITION, AND PRICED COMPETITIVELY SO THAT BE YOU A NATIONAL SECURITY AGENCY OR A PRIVATE CONSUMER, YOU GET A GREAT PRICE AND A WELL-CRAFTED WAR MACHINE!
DUE TO THE VARIETY IN PRICE AND SELECTION OF SYLLVAN MILITARY PRODUCTS, WE HERE AT DIRT CHEAP HAVE WORKED HAND IN HAND WITH THE DEPARTMENTS OF INDUSTRY MANAGEMENT AND INTERNATIONAL TRADE TO CONDENSE ALL OF THE OPTIONS A DISCERNING CUSTOMER HAS, INTO ONE CATALOG! OUR PAPER COPY CONTAINS AMMUNITION, FIREARMS, AND TACTICAL EQUIPMENT OF ALL TYPES, WHILE OUR ONLINE OUTLET HAS EVERYTHING FROM BRASS TO BATTLEWAGONS, WHILE ALSO FEATURING A REAL-TIME INVENTORY THAT UPDATED EVERY TWENTY MINUTES!
SEND US A REQUEST FOR AN ACCESS KEY (https://verdrassilisanerd.imgur.com/[/size]) TO THE ONLINE CATALOG AND GET STARTED FILLING YOUR ARMORIES TODAY! REQUESTS FOR PURCHASE CAN BE LOGGED BELOW AND WILL BE RESPONDED TO WITH A CONFIRMATION RECEIPT OR A DENIAL OF SERVICE!
[hr]
IN ADDITION TO SHOPPING SERVICES, DIRT CHEAP CAN ALSO CONNECT THE DISCERNING MANUFACTURER TO ONE OF OUR TWENTY-EIGHT ARMS DESIGNERS AND HELP NEGOTIATIONS TO ACQUIRE SOME OF OUR PROPRIETARY DESIGNS AND LICENCES! IF YOU ARE INTERESTED IN EITHER, PLEASE DO NOT HESITATE TO REQUEST THIS SERVICE BELOW! OUR AGENTS WILL CONTACT YOU WHEN WE HAVE A RESOLUTION!
(When ordering from the catalog, please supply me with the image of the item you want and the amount. I will calculate the price. )