Fighting Continues in Airbus UK
http://static.howstuffworks.com/gif/patriot-launch-200px.jpg
Airbusian PATRIOT Missile Launcher firing at an Iremian Aircraft
PORT JENNIFER: Close-quarters combat has persisted into the afternoon today as Iremian forces continue to advance through the city despite heavy resistance. On the reverse, though outnumbered and out gunned, the Airbusian defenders have carried on giving up an extraordinary fight.
Their defense was facilitated when Airbusian anti-aircraft launchers such as the PATRIOT Missile Launcher pictured above decimated an intended mass bombing and cruise missile attack on the country at large. Iremian forces, which had counted on the strikes to stop reinforcements from flowing into the city, were shocked when said operation failed.
Meanwhile, in the south of the country, a standoff between Bakastrovian, Airbusiand, Iremian, and Kangarawan forces has continued. The standoff, partially a result of continued Iremian air strikes in the area and partially a result of Iremian hesitance to assault an area containing international aid workers has left what was fore-casted to be one of the larger combat zones relatively unaffected.
Reports of a mass purge by Intern President Darbat Singh of those sympathizing with Iremian forces or forces loyal to the nation's deposed President have yet to be confirmed. Also unconfirmed are reports of the bombing of a civilian apartment building within Port Jennifer.
---
Democratic Revolution Erupts in Bai Lung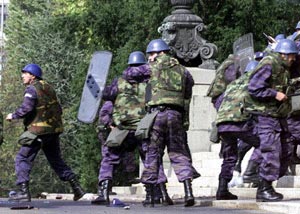 Bai Lungese Police on the Retreat
Port Mao: Police and Government forces have been forced into full retreat across Bai Lung as pro-democratic riots have escalated in frequency and strength. Of course, after the damage done by the Civil War earlier this year and the continuing Dannistrian invasion, it is not difficult to understand the inability of either of Bai Lung's governments (the nationalists or communists) to put down the rising democratic front.
Of yet, no person has claimed leadership of the democratic revolution. In fact, no official revolution has been declared; thus far, it has simply consisted of random riots across the nation. However, any new dictator will undoubtedly have trouble attempting to regain control of the nation in the coming months. Whether a democratic government will have much easier of a time is another question.
---
Unofficial Truce in Korean/Looplite War
http://www.history.ac.uk/ihr/Focus/Empire/reviews/soldiersag.jpg
Korean Soldiers Enjoying Their Escape from the Trenches
Cupertino: Though no official cease fire has been declared, fighting across the Korean/Looplite front has come to a sudden and complete end. With the exception of some minor skirmishing, the Korean invasion of 1 Infinite Loop seems to have come to a peaceful end.
The invasion, which began last year, almost immediately came to a standstill in the face of a resurgent 1 Infinite Loop. Since that point, a stalemate has continued, with both sides repeatedly attempting but failing to advance. By the time fighting lulled about a month ago, both sides had become fully entrenched in world war one style.
Whether this unofficial truce will lead to an official cease fire or even a peace treaty is yet to be seen; this reporter can only hope so.