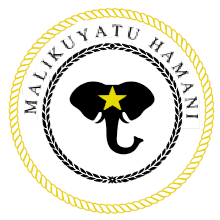 Embassy Program of the Kingdom of Hama
[hr]
A Note from the Minister
All nations are linked in some form. As the world becomes more closely interconnected, these links become stronger and their impact on the decisions that a government and the people of that country make are influenced by these links. Events in seemingly unrelated parts of the world can impact each other. We must make use of these links to better the world for ourselves and each other.
Hama's doors are open for the people and nations of the world. This site acts an online platform by which these interactions can be achieved in a more secure and effective manner. Hama has had a history of trade and interaction with many nations for a very long time. We have relied on others, just as others have relied on us. We are not new to these interactions and are always open to discuss issues and engage, constructively, with other nations and organisations. While the nature of diplomatic interaction has change and the challenges that we face and the means available to us to overcome those challenges changes, the humility we have towards other nations and the confidence that you can have in us, has not changed.
We look forward to working with you.
Regards
Foreign Minister
[hr]
A Note from the Site Admin
Welcome to the embassy program of the Kingdom of Hama. We would like to thank you for your interest in our country. Feel free to use this resource as appropriate to your needs and requirements. This channel will enable you to access information and announcements on Hama and issues related Hama. This page will also allow you to make diplomatic, economic, trade, cultural and other requests and submit any applications. Feel free to ask any questions. Our friendly staff will attempt to reply to your message as soon as they possibly can. Your patience in this regard would be appreciated. We wish you all the best and hope that you enjoy our site.
Regards
Site Admin
[hr]
Some brief information
The Kingdom of Hama (Hamanese: Malikuyatu Hamani) is a nation-state located in northwest Yasteria Major. We share a border with Packilvania to the south east and east while the Sea of Borea lies to the north. The area of what presently comprises Hama has been inhabited for several thousand year by nomadic tribes. These tribes established permanent settlements and developed agriculture a few thousand years ago. They formed city states, engaged in trade and developed complex metallurgy a couple thousand years ago. They often engaged in wars and skirmishes over several centuries.
Christianity propagated over a thousand years ago, with Islam following a few centuries later. There was an increase in development. A few centuries later, the first King united these tribes into a single kingdom that makes up the upper half of modern Hama. Over the years the new nation expanded to the south and east and eventually remained fixed on its modern day borders. The national religion, Abrahamism, was founded a few centuries later. Through imperialism and proselytism, this religion proliferated into the third most practiced religion on Urth. Borea was invaded and colonised in this time, forming the first colony and bringing the notion of the Hamanian Empire into existence. The nation has dealt with many challenges over its modern existence such as a massive Urthquake that damaged Komodu and a plague that killed many people. The nation recovered and rebuilt itself into a major player on the world stage.
The nation is ruled by a King who is elected by a Council of Chiefs. This council forms the upper part of the Parliament. The democratically elected House of the People advises the council and represents the people. A strong judiciary headed by the Supreme Court metes out justice and enforces the law. Minority and corporate rights are protected. In addition to which, low taxes make starting a business or investing in a business venture easy and profitable. Our political system is stable. Our institutions are sound and corruption is low. There are reforms to liberalise and democratise the political system.
The population is 20 million people. The official language is Hamanese. The majority ethnic group is the Hamanite nation. The most widely practiced religion is Abrahamism. The nation has high rates of education. Healthcare is universal and freely accessible. Energy, water management and transport infrastructure is well maintained and extensive. Public services are abundant. There is a great deal of social cohesion. Crime rates are low.
The economic output is around 400 billion kiribs, growing consistently over the past few years. Services make up 60% of the economy, followed by industry with 30% and the primary sector with 10%. Financial services and retail make up the biggest portion of the services sector. Construction, chemical products and pharmaceuticals make up the biggest portion of the industrial sector. Animal products and farming make up the biggest portions of the primary sector. The nation has a mix of private and public ownership and entrepreneurship.
Hama has a geography of 1 million square kilometres or just under 400,000 square miles. It has mountains in the east, that form the border with Packilvania. There is a hot desert climate in the south. There is a warm highland grassland plateau in much of the centre and west. There is a mild climate and forested landscape in the north. There are many plants and animals, some of which can be found nowhere else in the world. The elephant is our national animal and appears on many symbols such as our coat of arms.
To learn a little bit more about Hama, please visit Hama - NSWiki.
[hr]
Applying for a diplomatic mission
Applying for a diplomatic mission is very easy. Just send a letter expressing your desire to establish a diplomatic mission in our country and we will process your request and get back to you as soon as we can. You can include any special requests such as the architectural style in which you might like your embassy to be built. You can also include requests for special agreements with our country. These can vary from economic to cultural to scientific to trade related agreements. We are open to considering any requests that you may have.
We reserve the right to deny or accept a diplomatic mission or to deny or accept special requests or requests for diplomatic agreements. Like any other civilised and modern country, we have rules and values that guide the way that we work and, by extension, the decisions that we make. We are generally neutral and open to engaging with all nations. But we have our reservations and preferences. We will communicate with nations on these issues and remain open to negotiation and discussion.
Diplomatic immunity is offered to all high level diplomatic personnel and senior staff. This immunity means that these officials cannot be prosecuted or summoned before a court of law. This immunity exists to protect diplomatic staff and maintain decorum in line with international customs and values and norms. While your embassy is on Hamanian land, it belongs to the nation that uses it as both private property and sovereign territory. You may dispose of it as you see fit and it is not subject to same laws that other land within the borders of our country are subject to.
[hr]
List of diplomatic missions
We will try to update this information as regularly as we can.
[th colspan="5"]List of Diplomatic Missions[/th][th]Nation[/th][th]Address[/th][th]Head of Mission[/th][th]Agreements[/th][th]Status[/td]Furnifold, the Royal Republic of 12 Main Road, Rahimu, Komodu, 1001Business relations and investmentPositive, activeStratarin, the Militarised Communist State of18 Main Road, Rahimu, Komodu, 1001ComprehensivePositive, activeGreat Morstaybishlia and Justelvard, the United Kingdom of370 General Road, North Park, Komodu, 1002ComprehensivePositive, activeKuthernburg, the Kingdom of201 Market Avenue, Muhammad Park, KomoduComprehensivePositive, active