Bai Lung fans riot following World Cup game
SUNDAY, FEBRUARY 17, 2008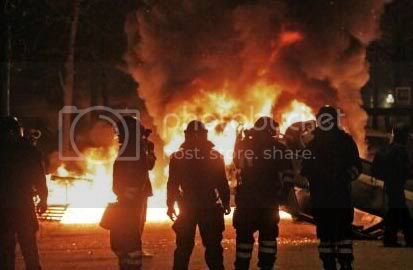 Firefighters arrive to put out a burning car during riots in Laneux following a World Cup game between Bai Lung and Kelssek.
(KELSSEKIAN PRESS PHOTO BY JACQUES SOURAY)
LANEUX - Groups of Bai Lungese burnt cars and trashed Japanese-themed businesses on the streets of Laneux following a World Cup hockey game between Bai Lung and Kelssek.
Some fights broke out in the arena between Bai Lung supporters during the game, with police being alerted after several Bai Lungese men apparently engaged in a knife fight following the conclusion of the game, which Bai Lung lost 5-3. Three Bai Lung nationals were treated at hospital for stab wounds.
Fistfights between Bai Lungese and Kelssekians also broke out, with some witnesses saying the Bai Lungese hurled ethnic slurs. One man also claimed that his shoes were stolen. According to Place Gauchetiere staff, several seats were also damaged.
However, it was upon leaving the arena that rioting erupted, with gangs of supporters reportedly venting their anger, setting fire to Japanese-brand cars and attacking a nearby Japanese restaurant. Fights also broke out with patrons at a gay bar on avenue Louis-Desjardins when a gang of Bai Lungese allegedly broke into the establishment. The KBC also reported that chairs and barstools, thought to have been grabbed from the restaurant, were thrown at police.
Bai Lungese society is known for strong homophobia and anti-Japanese feelings, rooted in a conservative outlook and resentment over past wars with and occupation by Japan.
Over a thousand arrests were made by police over the course of the night. Backup from the National Mounted Police had to be called as the riot threatened to spiral out of control, but order was eventually restored by about 2am. Twelve police officers and over thirty civillians were injured.
According to Laneux's police force, the SPVL, 178 charges will be laid as a result of the violence, including two players from the team who could face aggravated assault charges after they allegedly attacked Bai Lung coach Kim Dong Wen with their hockey sticks, leaving him in hospital with unspecified head injuries. Pak Chi Wu and Wang Ri Dang reportedly were upset after Kim blamed them for Kelssek's fourth goal, a Colin Calderwood slap shot from the blue line which went in after taking a deflection off Pak Chi Wu's arm. Calderwood's goal, his second of the tournament, gave Kelssek a 4-3 lead and would prove to be the game-winner. The result also meant that Bai Lung were eliminated from the World Cup.
The Bai Lung government was quick to issue an apology over the incident, with acting Interim Administrator Chiba Seto writing to Prime Minister Pierre Gautain early this morning. Bai Lung media reported that he offered reparations for the damage caused and called for the rioters to be severely punished by the Kelssek government.