Safety Tips
CYBERBULLYING
AVOID GOSSIP.
Everyone's bound to get a little excited by those oh-so-dramatic high school scandals, but that doesn't mean you have to text the latest rumor to everyone you know.
DON'T FEED THE CYBERBULLIES.
Ignore mean or threatening messages. Block the sender and file a report with the website, cell phone service, or police.
BYSTANDERS ARE GUILTY, TOO.
If your friends are cyberbullying someone and you stay silent, you're just as guilty as they are. Speak up and keep your friends in check.
ONLINE PREDATORS
RECOGNIZE THE DIFFERENCE BETWEEN CUTE AND CREEPY.
Think about it – an older guy who wants to date someone younger is just creepy. It's not flattering; it's illegal! So don't friend them and don't meet them offline.
DON'T JUST SIT THERE – REPORT!
If you or someone you know has been victimized by someone you met online, report them to the police and https://report.cybertip.org/
SHARING TOO MUCH
INITIATE OPERATION PROFILE CLEAN-UP.
Scrub your page of everything too personal, embarrassing, and illegal. Those pictures of you passed out next to the empty bottles are not going to look so cool when you start applying for college
STOP. THINK. PUT YOUR CLOTHES BACK ON!
You know those pictures of you wearing next-to-nothing and making kissy faces or flexing in the mirror? You might think it's sexy, but the law doesn't, so do yourself a favor – don't send them; don't forward them.
PROTECT YOUR SPACE.
Use privacy settings and don't accept just anyone as a friend. Do some investigating – Who are they? Why would you hang out with them?
TRUSTED ADULTS
TALK TO YOUR PARENTS OR GUARDIANS. THEY'RE NOT AS UPRIGHT AS YOU THINK.
Sometimes adults freak out about what you're doing online because you never tell them anything. Keep them in the loop so they know they can trust you.
Any member of forum staff or Discord Hub Staff can be contacted at anytime if you need help.
Stuff to Know
Remember

that not everyone you meet online is trustworthy.
No one that you

meet online

should ask you to keep secrets from your trusted adults.
Ask a trusted adult before sharing

personal information

with an online friend.

Be suspicious

if an online "friend" tries to turn you against your friends and family.

Don't accept gifts

from people that you meet online.
A

real friend

, whether you've met them in real life or online, won't pressure you into doing anything that makes you uncomfortable.

Report

anyone who sends you or asks you to send inappropriate messages and photos.

Be a good friend

: talk to a trusted adult if someone you know is planning to meet offline.
If someone asks you to meet offline,

tell a trusted adult

immediately.

Don't respond

to people asking you for personal or inappropriate information.

Never respond

to harassing or rude comments.

Save

or print the evidence.

Talk

to your parents or guardian if you are harassed; get help reporting this to your ISP, school, or local law enforcement.

Respect

others online.
Only share your password with your

parent or guardian

.

Change

your passwords often.
Password

protect

your cell phone.
Use privacy settings to

block unwanted messages

.

Think before posting

or sending photos – they could be used to hurt you.

Contact

the site administrator if someone creates a social networking page in your name.
Videos
https://www.youtube.com/playlist?list=PL6xv6rKItVkM5UqhWvAlwfr3W6fm0YGl8
1-800-273-TALK (8255) National Suicide Prevention Hotline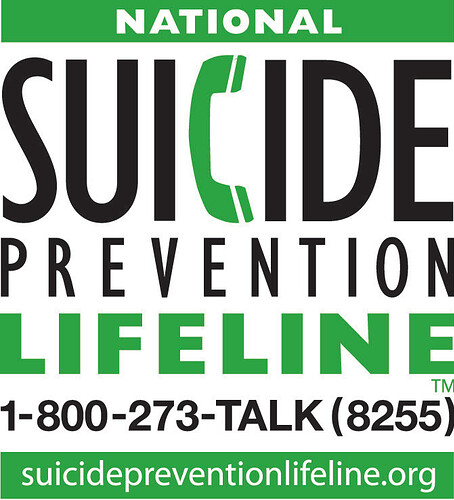 https://suicidepreventionlifeline.org/ 1-800-273-TALK (8255)
List of Suicide Crisis Lines Outside of the US
If it is In Real Life…
That you know in-person and is in immediate danger then please contact 911 or your local authorities.
That you know and on a social media platform (Facebook, Instagram, Twitter, Snapchat) then please checkout information on Support on Social Media from the Lifeline. Logic - 1-800-273-8255 ft. Alessia Cara & Khalid (Official Audio) - YouTube
NationStates & Discord: Where to Report Abuse
NationStates: Getting Help Request for Moderator Intervention
https://www.nationstates.net/page=help
Guide to Making an Effective Help Request

Please tell us exactly what the problem is. "_______ is bothering me" is too vague to be useful. "Testlandia has sent me three abusive telegrams in the past twelve hours" is better.

Tell us who is involved. "Some guy is spamming our region with puppets!" is less useful than: "Testlandia is spamming our RMB and we suspect that Puppet1, Puppet2, and HaHaYouCan'tProveIt'sME are also their puppets."

To report a specific telegram, dispatch, or post on a Regional Message Board, click its timestamp (e.g. "12 minutes ago") and use the "Report" link on the next page.

You can report misbehavior in the forums by posting in the Moderation forum.

We don't police other sites and can't do anything about misbehavior that takes place somewhere else.

To request an API key for sending telegrams, ensure your nation is resident in the right region, mention this region in your request, and describe the purpose of the key (e.g. recruiting, WA campaigning). Note that you will be responsible for all usage of the key.
See also:
NationStates: Etiquette (Site Rules) NationStates | Frequently Asked Questions
---
Discord: How to Properly Report Issues to Trust & Safety
https://support.discordapp.com/hc/en-us/articles/360000291932-How-to-Properly-Report-Issues-to-Trust-Safety
See also:
Discord: Three Steps to a Safer Account https://support.discordapp.com/hc/en-us/articles/115000089272-Three-Steps-to-a-Safer-Account