29/5/2022
WWW.INDEP.OS.COM
FIRST ISSUE
GOV. TO BAN CRUDE PALM OIL EXPORTS OVERNIGHT
The Ostrucian Ministry of Trade and the Palm Oil Exporters have agreed to ban its
Export of Crude Palm Oil to the world except local food, cosmetic and
Petroleum producers with a population that is demanding for cooking oil and
an alternative approach of Petroleum, the Government also says that electric cars
are very toxic when it is in production, experts also say that mining rare minerals
and manufacturing batteries and chips have impact in worker's health with
the increase of cancer, especially pneumonia
** https://upload.wikimedia.org/wikipedia/commons/8/8d/Oilpalm_malaysia.jpg
**
---
** While the exports of crude palm oil are banned, the regulation on expanding palm oil farms are**
** getting strictly tightened, those who want to find fortune in exporting crude palm oil are**
** to given 5km of the lands in maximum as to lowering the risk of frequent deforestation, and**
** also to follow the regulations and health checks on workers.**
---

29/5/2022
WWW.INDEP.OS.COM
FIRST ISSUE
13 NEW TALLER ELEVATED EXPRESSWAYS APPROVED
The new 13 expressways, led by 4 domestic companies, are approved by the Ministry of Trans-
port, the expressways built are part of a larger program to make shortcuts for vehicles from
one part of the city to the other, improving transportation and reducing traffic jams.
Meanwhile the Ministry of Transport is planning to build tram networks and pavements in inn-
er part of the city, including several densely populated areas for easier access to reduce the
dependence on vehicles and improving air quality by 5 percent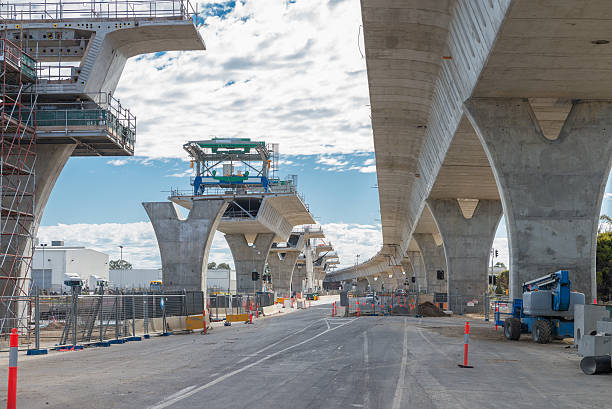 CHAOS IN PARLIAMENT IN WHILE DEBATING CRUDE PALM OIL,
AS ACTURIAN MARKETS PLUNGES INTO CRUDE PALM OIL CRISIS
In the Ostrucian Parliament, Some Parliament Members protested that the ban of Crude Palm
Oil had directly harmed some of the Acturian nation's markets, both in their food and
oil industry. this has plunged into a 15-minute chaos inside the parliament until the guards
and the speaker arrive to restore order
The parliament members aligned to the government repeatedly said that the ban will benefit and fix
the problem that is the shortage of cooking oil and the improvement of local industries that actually
benefit the nation's value up the chain
Regardless of this crisis solved in the Parliament, short term political crisis is still ongoing
regarding the crude palm oil's exports


31/5/2022
WWW.INDEP.OS.COM
THIRD ISSUE
OSTRUCIA'S EXPORT RISE TO 670 BILLION OSTRUCIAN DOLLARS
The Ostrucian Market had risen to 60 percent days after the ban is announced, this has largely benefited
much of the domestic food and beverages market and a golden age swirls across Ostrucia
Meanwhile, Acturian countries struggle to diversify its imports from crude palm oil of Ostrucia and some
companies have moved operations to Ostrucia, this angered few and a lot of migrants are crowding Ostrucia's
Immigration offices in hopes to applied Work permits or even citizenship
This led a chain set of effects which made migration into Ostrucia very worse, turned many of the citizens negatively view
migration into the country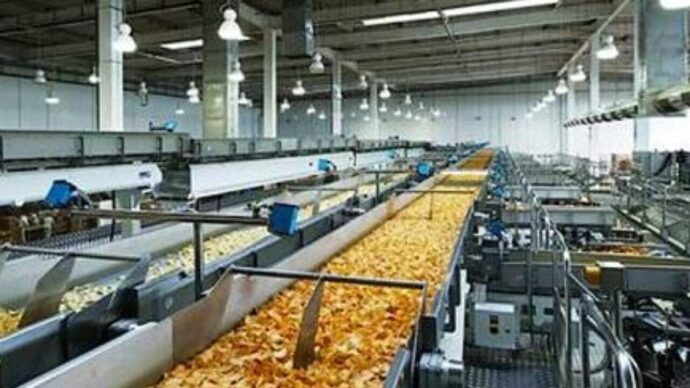 WORKPLACE ON FIRE AT DOWNTOWN MEREINBURG, ARSONIST UNDER MANHUNT
At an average afternoon, when the office is closing for next day's job, a smell of burning is detected, the back side of the office is under fire, that is what the Witness Manager Recdokel says
this Arsonist, caught in camera, is seen setting up fire at the back side of the office in revenge for getting illegally fired
that involved in bribery by the high ranks of the corporation he is working in
But luckily, since the Office is closed, no one is caught in fire, no one is involved in it, only the witnesses Manager and the
Security officer involved at this late afternoon
The Arsonist is now targetted and is under a manhunt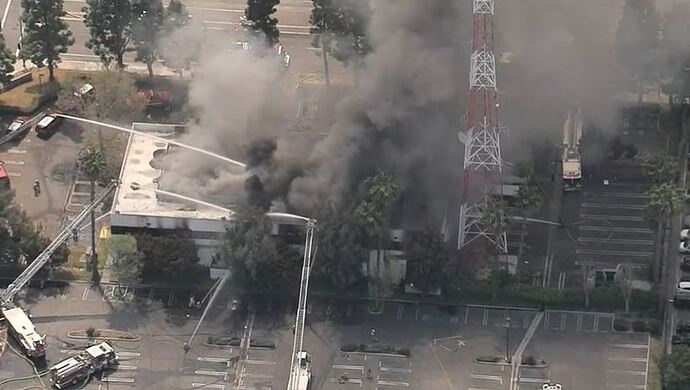 3/6/2022
WWW.INDEP.OS.COM
FOURTH ISSUE
OSTRUCOPOLIS STOCK MARKET GONE ROCKET TO THE ROOF
AT 2:00AM, there is an unexpected and unknown event in the middle of the night, the stock market had skyrocketed to 560
per shares, considering an unknown event that shocked the small and big investors, into selling maniacally
At morning, it made small Investors selling the shares, making huge cash, but it created large crashes at
several nations' stock markets falling drastically to 20%, and also made the Ostrucopolis Stock Exchange
to fall by 10%, but no one knew what exactly happened, but well, life continues to move on.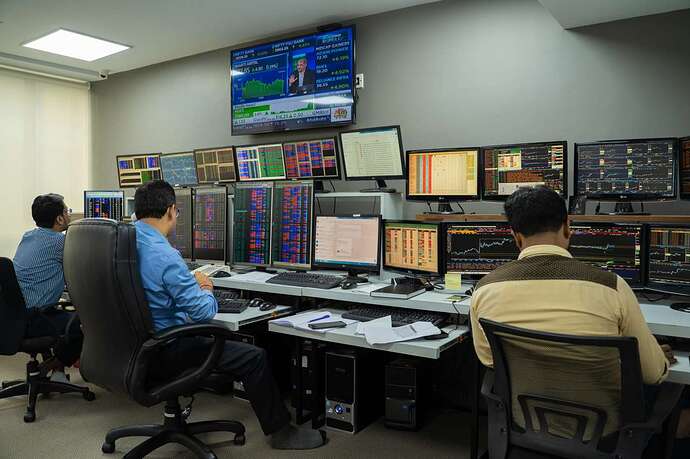 3/8/2022
WWW.INDEP.OS.COM
FIFTH ISSUE
OSTRUCOPOLIS MUNICIPALITY TO CONVERT UNUSED ROAD STREETS TO PLAZA
11/8/2022, The Ostrucopolisian Municipality Council has decided to convert unpopular road streets, namely the George St, and Dutcaeg St into a plaza as an effort with the Government to control car dependency and potentially decrease traffic jams and the increase of use of public transportation such as Light Rail Transport (LRT), But Mayor Derich Silev and his council members has more plans like this to make the city more clean and advanced like any before, this is the beginning of new Ostrucopolis with a new face and change

6/11/2022
WWW.INDEP.OS.COM
[SKIPPED TO 67TH ISSUE]
EXTREMIST POLITICAL PARTIES CLASH, 90+ ARRESTED OVER ASSAULT
AT 6/11/2022 THIS NIGHT, THERE IS A CLASH BETWEEN A ULTRANATIONALIST "OSTRUCIAN EXPANSION PARTY"
AND THE REMNANTS OF "SOCIALIST PARTY", WITH BOTH FIGHTING WITH SHARP WEAPONRY THAT IS ILLEGAL
BY THE OSTRUCIAN GOVERNMENT AT GLUSOCESTER STREET, ON THE CITY OF ARCHBARROW, THE POLICE MA-
-NAGED TO ARREST AND DETAIN MORE THAN 90 PEOPLE WHO INVOLVED IN THIS CLASH, 5 OF THEM ARE
CHARGED WITH MURDER AND SEVERE ASSAULT CASES
POLITICAL SCIENTIST COMMENTS ABOUT THIS POLITICAL CLASH, SAYING THAT: "That is the consequence
if we do not regulate and create zones for politics where they should involve and not involve on, they will influ-
-ence our dearly public service, meaning they could influence Doctors, nurses, firefighters, soldiers, policemen.
Hell, they can even influence our judicary system and making it suspectible to political division amongst men
and women…
Plus, Radicalization of our politics can lead us to possible civil wars, or even end up tearing up our democratic
system, so we must have a way to stop them immediately, but banning far left and right movements should be
effective… but we already did that ban anyways."
A WITNESS WHO SAW THE CLASH WOULD COMMENT THIS BLOODY TRAGEDY, SAYING: "Look, if it continues like
this, we're gonna get f**ked by them, making me losing my damn job."
THE COMPACT STAFF REQUESTS THE ELECTORAL COMMISSION COMMENT ABOUT THIS ISSUE ARISING,
BUT WE HAVE YET TO RECIEVE A RESPONSE.
(6/11/2022)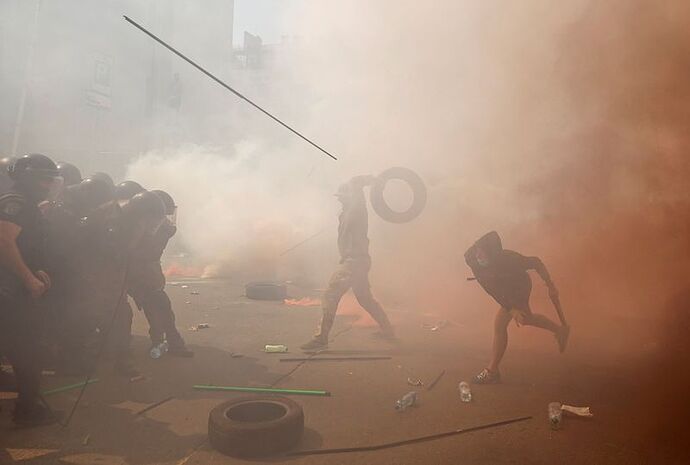 A photographer managed to take a shot on the police riot handling of the political parties' clashing by, which both parties have
started to attack against the police rioters.
(we're back to making news guys)

3/6/2022
WWW.INDEP.OS.COM
[SKIPPED TO 78TH ISSUE]
PROMINENT POLITICIAN VANISHED ABNORMALLY, SHOCKING EVERYONE
LEGIERSVILLE, 1/2/2022 11:00PM, Ronald Jorjeker, The well respected politician, and the current Minister for the Senior Minister of Internal Economy, has abnormally vanished into thin air, leaving some dust indicating his bones behind at the Roadside of the Lei Cheuqhans' Restaurant, serving the best local Legiersville food you can find, this had dragged serious attention around the Country, which even the best experts and the most influential religious leaders have arrived here to see the bone dust he left behind, Investigators are still searching for anwsers about what exactly happened before he invited everyone in his last dinner…
Experts believe that Levels in the highly magnetic enviroment in Arcutia could be deeply troubling and caused people to vanish abnormally, over 43 have been vanished in this recorded year due to disruption in magnetic fields in the Tropical country…
While there is no response from the religious leaders, cult leaders are surprised about why it happened…
The Shortage of the Copper and Diary Products has also been raised up and questioned as Ronald had raised this to people around him, people have bombarded mails and letters to question the Seniors and Juniors Minister of External Trades and Foreign Affairs of why it is not taking action as trade defecit is Increasing by 1.5% with the shortages raised up by people questioning the four ministers…
The Rulling Party will release its report and will respond soon, tomorrow night.