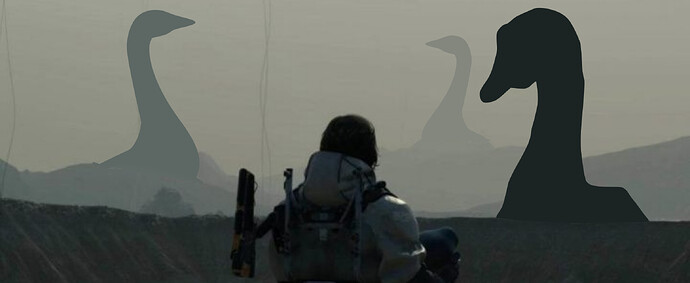 THE GOOSE STRANDING
(This has 0 relevancy to everything I will say.)
Hello!
To start off straight, I'm not running for Delegate. This is another one of those "spreading ideas" campaigns. I don't know why I keep writing these types of campaigns as I approach closer and closer to armchair status, and less and less likely to do anything meaningful. But! Might as well, right?

The primary idea behind all my other ideas is simple: we should attempt changing our government perspective from whatever hodgepodge thing it is to how we can use the government as a platform to bolster the community.
The thing about being in a region is that ultimately a regional government has one focus: providing something the community needs. Obviously, these needs vary per each region's reality and vision, but any good NS government ultimately addresses these needs.
In TEP's case, what the community needs is a) a way to play NS together with other TEPers in R/D, WA, FA, etc. and b) acting as a mediator between TEP's various sub-communities to unite them under the one general community of the East Pacific.
The Executive is the main player in that regard. The Conclave, the Praesidium, the Magisterium - all of them are more focused on protecting the region and giving people the opportunities to do niche things. The Executive is the accessible, open arm of the government that both does the most and allows the most upwards mobility. If there's any government entity that needs to address community needs, it's the Executive.
So, let's explore each Ministry.
---

Culture is probably the most integral Ministry under this perspective, because its focused on holding events - which is something people like doing often. People like attending events as well.
So the questions behind culture should be "what would we like to do as a ministry/people" and "what do we think our friends would enjoy doing". Whatever matches those two questions - do it.
If you try making Culture an event-making ministry focused on excessive volume (which is often our aim), culture often becomes slog work. And when Culture isn't pumping out a ton of events, it's a failure. This is a dichtomy that seemingly encourages burnout.
Also, if someone's doing an event on their own - pull them into the Ministry and offer to help promote what they're doing. Boosting community events and community ideas makes the government more belonging to and representative of everyone, rather than those few already doing gov work.
---

Being a diplomat is boring - all you do is send reports and bring in updates. Considering that's the extent of the job description, it's no surprise we've been at a constant diplomat shortage. (I mean, this is probably a by-product of potentially having way too many relationships and other factors as well, but that's another discussion).
Obviously, this is a difficult question to answer and I don't really have a true solution. But it is a question we (by we, I mean mostly Libertanny from what I've seen) have been pushing to answer, and we (I really mean we this time) need to continue finding the answer for. Find a way to make FA fun for people.
But if I had to suggest somethings, first I'd state the main purpose of our FA as I currently see it - which are to benefit our region by forming friendships that either benefit us security-wise, community-wise, or both. There may be more of a recent push to manage how we're perceived and chase FA goals beyond friendship building, but I'm not in IC-FA so idrk.
Anyways, one thing I can think of is switching ambassadors every month or so. Essentially, any ambassador who hasn't really bonded with their region they're assigned to will be sent to another one, and so on and so forth. Eventual goal is to have that diplomat (hopefully) ingrain themselves into a region - thereby making FA work more fun. It's what happened to me and UDS, at least, and I imagine other diplos as well. Basically cycle these "loose" diplomats until hopefully they land somewhere they enjoy vibing in.
Second is probably to try making FA decisions more accessible to diplomats. Obviously, this balances with our security needs and whatnot - but meta-analyzing GP is one of the fun parts of FA, and including diplomats in that process as much as possible will make being a diplomat more enjoyable. One thing I've seen Dilber from TWP mention when he was Delegate is essentially "teaching" FA to diplomats using live examples from GP - in what he was referring to, the Force dilemma. Mayhaps something like that could be of good value for us to mimic.
---
Just do R/D ops. People who like R/D will come and vibe. Offering badges and fancy titles may help with retention, but ultimately R/D is highly niche and we just need to keep recruiting and hope we find those rare souls who like sitting for hours on late nights maniacally pressing buttons
---

EPNS is a bit difficult to consider, mostly because my suggestion is something we already attempt constantly. Yet, nonetheless - what I propose is to simply continue getting people to write up anything TEP-related that they're interested in. Is there a Magister interested in making a legislative update? Ask them to write it. Someone interested in learning more about TEP's history? Perhaps ask them to interview someone. Forum RPer/RMB RPer particularly proud of an RP they're doing? Have them write up a synopsis of their RP. Someone with a particularly strong opinion in an on-going gov debate? Ask them to write up an opinion article.
The most important thing for writing (at least, in a hobby-like space like NS) is writing for oneself. So make EPNS a way for people to share their thoughts and opinions on TEP-related things - a place where people can yell about stuff on a region-wide level and hope someone somewhere resonates with it or at least finds it as interesting as they do. Like all writing!
(All of this applies to podcasts as well - which have been pretty awesome to see happening!)
---

The fun thing about doing WA stuff is discussing it. Afterall, most of us came to this site in the first place because we wanted to build a nation, and the WA is a more macroscopic version of that. Also, we like arguing about things we care about (so its no surprise a lotta people like arguing about WA things).
WAA primarily needs to focus on driving discussions on WA matters. How it does it is a difficult question that has been experimented on and will simply need more experimentation on until we find a formula that works - even if just for a while. One thing that may help, though, is for the WAA Minister to provide their own opinion on a resolution that's at vote. If you offer an opinion, people tend to like disproving it if they disagree with it - thereby, leading to discussion.
Also, no more FA overrides for WA stuff. They suck, and we have various tools at our disposal to build relations. We don't need to sacrifice our WA votes as one of them.
Also, could look into card events to raise endorsements. Seems to work in a lotta places, and we got card farmers. People like cards and we like endorsements - fair trade!

REWARD needs to be rebooted but that's something for the coding people to do.
---

IDK UTEP that well, but from what I can see it's still primarily a discussion place. So yeah - just continue encouraging discussion. If someone has a cohesive opinion on something, maybe ask them to write something formal for UTEP archives. Bring in people who may wanna have the kind of debates UTEP wants to have. UTEP seems to be doing things right.
---

We can run all the ads we want. We can run all the mentorship programs we want. We should run all those things and the other things we want. But ultimately, recruitment is most effective when it comes to direct contact.
Ideally, Outreach would be telegramming every newbie - but that's an impossible demand. So is DMing every single person who joins the Discord. Most people don't have the time or will for that (as shown this previous term, given this was Outreach's goal but not much hasn't panned out from it because people just don't have that much time). Yet, again - direct recruitment is the most effective thing to do. So, what to do?
I imagine a new perspective for Outreach as a Ministry that facilitates the above Ministries's missions. Is someone really great at writing factbooks or maybe someone who wants to share their RP with others? Outreach can help connect said individual to EPNS. Is someone asking for what people think of the WA resolution at vote? Guide them to MoWAA's discussion area. Is there someone willing to discuss politics, or someone extremely knowledgeable about something that may contribute to discussion? Guide them to UTEP! Someone particularly social? Guide them to FA.
To summarize the above, perhaps a different direction to take Outreach rather than thinking of it as a constant welcoming and DMing machine is seeing Outreach as a connector between the community and available opportunities. Both on a macro level (advertisements, mentorship programs, guide maintaince), but also on a micro level (paying attention to what's going on in the region and offering government services to people to complement what they're already doing/who they are). Obviously, this means Outreach's Minister should be a part of all parts of TEP (or at least, willing to delve into areas they haven't before).
In short, instead of viewing Outreach as recruitment, it should be seen as a connector of opportunities and mutual interest. Just an idea, anyways.
Outreach should also probably review STEP and other resources and see they're up to date.
---

As Marrabuk often said during his Delegacy - "Our region, our home, our family! One united front!"
When we say The East Pacific is a community, it includes our roleplayers. We haven't forgotten that, but I also feel we've become a bit jaded with what we tend to view as low engagement from the RP side with the government trying hard for 2+ years to cater to them.
I'm here to say that we should keep trying regardless, as we currently are. Basically a word of encouragement, I guess.
For the RMB, a great thing to consider would be events primarily hosted on game-side. Polls are one massive thing. QoTDs should be done more routinely. (Both of those things could potentially be done by RMBers!) Perhaps pinning Valsora on the regional mainpage.
For Forum RP, consistent reminders to maintain Voter Registration - many RPers seem to be dipping from regularily voting, which is fine enough until the majority of non-RPer voters elect someone who may not really care about the RP communities as much. OFC, continue advertising podcasts. Maybe EPNS article highlighting notable RPs every month. Pinning an Urth map dispatch alongside Valsora.
Small things! The divide between the roleplay communities and the general+government community will always exist and that's alright, but we can always, always, do our best to mitigate it. Take a sign of low engagement as an invitation to try something new - not as a sign to give up or rest on our laurels. The more united we are, the better.
---

To re-state everything, instead of TEP's Executive worrying about how it will perpetuate itself (which, to be clear, is a natural concern of any regional government but shouldn't be the overriding concern if a region isn't in crisis. We are not.), the Executive should worry more about how it can function as a vehicle for community development. This will, in turn, get people more involved and give rise to more government leaders - thus keeping everything going.
At least, that's the vision of government I've developed over these two years since I was elected Delegate. Whether it's actionable or even useful is up for debate, I guess. Maybe it's useless. Maybe this is the Executive's current vision and I'm just stupid. Whatever the case - it's an idea.
Anyways, I won't say this will be my last Delegate campaign because it probably won't, but considering my free time in NS has basically died… I doubt I'll be doing anymore substantial NS stuff for the next few months to come up with any more meaningful/useful ideas. And I'm probably already too split from the current realities of the Executive to know what needs to happen - I'm mostly stating this on my past experiences in TEP + other regions alongside what I've observed in recent TEP.
All of this is to say - yes. I'm aware I'm not the best person to speak on Executive stuff. So take my thoughts or leave them, up to ya.
Anyways, ask questions! Lemme know if you think this is a good idea or bs.
Peace!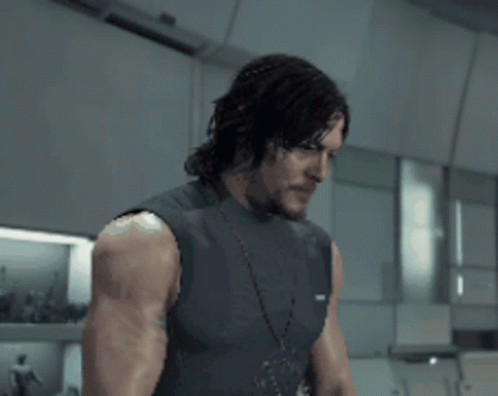 ---
Image Credits