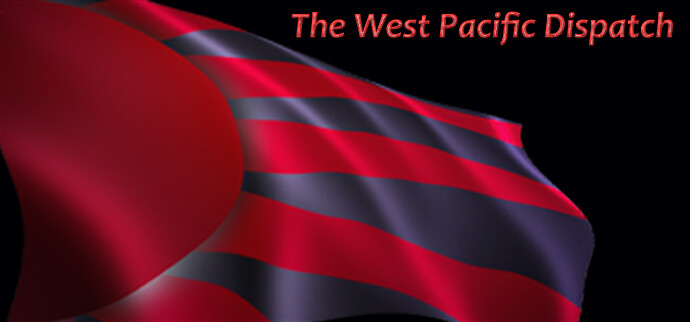 9 April 2013
From the TWP Foreign Affairs Desk
http://twp.nosync.org
World Assembly Delegate:
Wickely Evil People
Delegate Designate:
All Good People
The West Pacific Imperium
"I come before you today to invite you join me in The West Pacific Imperium"
Westwind of All Good People stood before the region Monday and announced The West Pacific Imperium, inviting the Wickedly Evil Chocolate Alliance, the Opposition and all nations of TWP to join together for the future of the region. In his address, he also asked for the region's support and endorsement to serve as the next Delegate of The West Pacific. Westwind has converted the existing Provisional Government into the new Imperium, presenting the new government to the region.
The full text of his announcement:
http://twp.nosync.org/forums/index.php?/topic/233-the-west-pacific-imperium-and-delegacy/
The Government of The Imperium:
http://twp.nosync.org/forums/index.php?/topic/234-the-government-of-the-west-pacific-imperium/
Wickedly Evil People declares support for All Good People
TWP Delegate, Wickedly Evil People has joined the West Pacific Imperium, and endorsed All Good People (aka Westwind) for the Delegacy of the region. In a statement on the TWP RMB, he said:
"I've joined the Imperium and advocate that all nations of The West Pacific stop by the forums and join us as we moved forward united to conquer the future.
I stand with the Guardians united behind The Westwind Dragons of All Good People and advocate that all WA nations in the region endorse The Westwind Dragons of All Good People for Delegate."
http://www.nationstates.net/page=rmb/postid=2805625
The West Pacific is preparing for the transition of the Delegacy as All Good People's endorsements continue to rise.