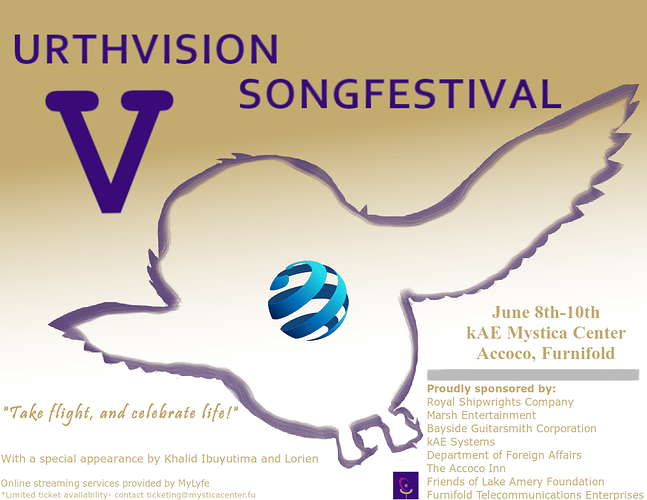 [font=Arial]WELCOME TO OUR CELEBRATION! [/font]
The Fifth Urthvision Songfestival, hosted by Furnifold, will take place from June 8th through June 10th, and will be an experience you will always remember! The Urthvision Regulations Committee (URC) cordially invites talent from all nations to showcase what makes life worth living. And there is no better place for this celebration than in Accoco, Furnifold. Here is Jackson Woolf, the Secretary of Foreign Affairs, with a greeting and more information:
"The Royal Republic of Furnifold extends its greetings to the nations of the world, and has opened up its premier sightseeing destination of Accoco for Urthvision V.
Here, we want you to 'live, learn, and love,' with the pristine Lake Amery, untouched by industry for generations. The kAE Mystica Center, where the Songfest will be held, overlooks the beautiful lake, where you can rest and relax near the water, or have some fun in the water! Plenty of boating excursions and water activities abound to help you experience life to the fullest! The hometown of our leader, Magistrate Jacopo d'Arrigo, is famous for not only the lake, but the fast-flying Chonvor that make roost here and in the nearby Vase Mountains. Watching these magnificent birds soar through the sky, with the white-capped mountains in the background, is a sight to behold. However, just like our leader, you can experience life like a Chonvor in the air, with hang gliding and hot air balloon rides aplenty for your experience.
I trust Accoco and the Urthvision Songfest V will truly give you the life-changing experience being in Furnifold provides. I welcome you to Furnifold, and best wishes to all competitors for a successful Urthvision!"
Accoco is a hub of culture and entertainment. The most popular tourist destination in Furnifold, it contains several lovely hotels nearby the Mystica Center for your convenience. There are also lakefront cabin rentals for those wishing to be close to the water and the Chonvor. Before the opening ceremony on June 8th, the main street of Accoco will become a lively week-long hotbed of activity, as vendors and street performers welcome the guests from around the Urth. Then, on the 8th, head into the Mystica Center for the opening ceremony, sponsored by Marsh Entertainment, which we hope will be a life-changing event. Besides welcoming the competitors, Furnifold will showcase its culture and the theme with performances to hype up our viewers and prepare for the competition the next day. A special performance will be featured, with the winner of Urthvision IV, Lorien, and the very first competitor for Furnifold, hermit and guru Khalid Ibuyutima, giving a performance together.
Then, on June 9th, will be the day of competitions, sponsored by Royal Shipwrights Company! The hosts, married performing artists Pauline and Quinn, of the duo P's and Q's, will guide you through the showcase of Urth's best and most talented as they compete for the reward of a lifetime! On June 10th, the closing ceremonies, sponsored by Bayside Guitarsmith Corporation, will commence, and the top winner will be awarded with a platinum trophy of the Chonvor in flight! In addition, a separate award will be given by the URC to the performance that best exemplified the theme of the competition. The winner of the best theme award will receive a trophy of a famous Furnifold starfruit, inlaid with rubies and other gemstones. Closing ceremonies will conclude with a fireworks show and a flyover from the Furnifold Hang Gliding Team, and that will wrap up Urthvision Songfest V!
We welcome you to the celebration, and best wishes for all our competitors!
Prerequisites and Prizes:
All contributing nations should maintain an embassy in Furnifold, nations that do not are encouraged to apply here (http://forum.theeastpacific.com/topic/7007076/1/).
All contributing nations must donate 800,000 SHD to cover their entourage expenses, as well as pay collectively for the trophies and prizes.
First Place: The nation that comes in first will host Songfestival 6, and will be awarded two First Place trophies; one for the nation's URC representatives or submission committee and one for the performers. The performers will be commemorated as a large statue in the Mystica Center, and will be taken on a guided tour of Furnifold later in the year if they so choose. The winner will be issued a 550,000 SHD cash prize. The winning nation's URC representatives or submission committee will have their financial contributions to the contest fully refunded. The winner of the Best Theme Award will be be awarded two special First Place trophies; one for the nation's URC representatives or submission committee and one for the performers, and will be taken on a guided tour of Furnifold if they so choose, as well as a 100,000 SHD cash prize.
Second Place: The nation that comes in second will be awarded two Second Place trophies; one for the nation's URC representatives or submission committee and one for the performers. The performer will be issued a 350,000 SHD cash prize.
Third Place: The nation that comes in second will be awarded two Third Place trophies; one for the nation's URC representatives or submission committee and one for the performers. The performer will be issued a 250,000 SHD cash prize.
All subsequent places will receive two Commemoration trophies; one for the nation's URC representatives or submission committee and one for the performers. All performers will be issued a 40,000 SHD cash prize.
[spoiler]
The Urthvision Regulations Committee to codifies and enforces a set of statutes that all Songfestivals follow. Alterations to these statutes will be allowed to take place twice-annually at pre-scheduled conferences composed of all nations participating in membership within the URC. Participation in the Songfestival does not require membership within the URC, but member nations will be afforded preference when dealing with song order, accommodations, and commercial and broadcast rights.
Membership within the URC is dependent on an annual donation proportionate to the nations GDP but will not recede past 5 million Auroran Standard Kiribs. Those members which donate more than 50 million ASK will be afforded the status of Boardmember, being able to make administrative and organizational decisions in conjunction with other Boardmembers.
Organizational:
The voting system will have participating nations poll their citizens through the use of the television broadcast, using whatever means necessary to collect the votes of the citizens, in the format of a list of all participating nations from first to last. The exact circumstances of the point system will be dependant on the nations participating and will be decided between the URC Board and the host nation.
If a nation that is not a member of the URC wins the contest, they agree on virtue of participation to abide by all rules and regulations the URC enforces and to accommodate the URC Board in planning out the next contest.
All participating nations must donate an amount of Kiribs submitted by the host nation and approved by the URC Board between 500,000 and 2 million in order to pay for construction of any necessary facilities, cover expenses for their nations' entourage, and to collectively pay for prizes and trophies.
The host nation is responsible for the accomodation, transport, security, and successful performance of all participants. URC officials will be present where necessary to ensure all reasonable means are being undertaken to ensure each participating nation is treated fair and equitably.
All performers are required to possess a visa and residence within the nation they represent. Citizenship is not required.
Political relationships are forbidden to take precedence over the festival, as it is a celebration of culture and art. If a participant broadcaster suspends or alters their localized version of the host broadcast, they will be subject to a fine proportional to the changes made.
The host nation must be able to provide the following when selecting a city:
-The chosen venue must be able to house a minimum of 6,000 persons in an arena-style location designed to be able to host concerts.
-The chosen venue must be able to provide reasonable access to restroom, medical, and concessions facilities for all persons and species, whether able bodied or disabled.
-Venues must also be provided for the opening and closing ceremonies of at least 2,000 attendees.
-The host city must have enough hotel and resort space within 2 kilometers of the venue able to accommodate upwards of 5,000 people which include national delegations and press, but also attendees and fans.
-The host city must be able to guarantee the safety and security of participants, members of delegations and guests.
-The host city must have within the city limits a hospital and police organization numbering at least 1,000 officers, robust public transport, an international airport within 10
kilometers, access to reasonable sized roadways, and be able to provide fast and direct transport from each accomodation area to the venues for performance and official ceremonies.
-The host city must provide a recommended exploration program for visitors and performers in order to showcase, promote, and expand the culture, food, industry, environment, etc. of the host city and nation.
-The host city must have a robust broadcast and satellite up-link capability in order to disseminate the contest broadcast internationally.
Musical Performance-
All entered music and their associated contestants must be unique and married in the sense that the work of music is an original composition by the performer.
A musician or composer cannot represent their nation two songfestivals in a row.
All musical acts must be either created for this competition or be a pre-existing work of music that was not recorded prior to 1985 (Nineteen Eighty-Five.)
The act must not last longer than 6:30 minutes (six and a half) and the music itself may not exceed 6 minutes (six) in length.
Acts must have a vocal component unless they are intended to be performed orchestrally.
All works of music must be of either popular or cultural significance to their nation of origin. The host nation and their broadcast provider will work with cultural and historical experts to determine the eligibility of each song on this parameter. Nations whose first entry are denied will have 1 chance (one) to select a more appropriate musical work.
All vocal components of the musical work must be performed by a live singer. No pre-recorded vocals or lip syncing is permitted unless the vocals are part of an electronically altered component of the piece.
A nation is permitted a non-mandatory one-minute video to preface their performance. The video may only contain content that references the performer and their home nation. Anything promoting tourism, the government, the military, the international or colonial presence of the nation, the current venue, commercial products, etc is forbidden. Any content that is associated with the performers' prior musical career, or any content that is similar or identical to any music videos or promotional content for the musical work itself is forbidden. All videos will be screened prior to the event. In the case that a nations' video is found to violate any regulations, there will be no opportunity to submit another.
The chosen musical piece is not permitted to be performed by any artist professionally, from the time it is selected to the time it is broadcast during the contest.
Personnel-
All entrants must be confirmed and endorsed by their national selection committee.
No entrants may have prior issues with law enforcement of any kind whatsoever.
All entrants and their associated entourages will select one of 8 locations to be housed during their stay in the nation. No members of any nations' staff are to stay in a different location.
A national delegation may not exceed 150 people and may not include more than five security personnel.
All personnel part of the delegation must be critical to the production and presentation of a musical act, including the performers themselves, any stylists, tailors, cooks, chauffeurs, instrument maintenance, dancers, etc.
If a nations' submission is, for instance, orchestral, and thus the necessary performers exceed the entourage member limit, they will be afforded the total number of performers plus 15 extra spaces (fifteen) in their entourage.
Any personnel associated with a nations' entourage that commit a criminal offense while visit the city, including but not limited to destruction of property, operating a vehicle without the associated license, consumption of a controlled substance while operating a vehicle, illegal acquisition or possession of a weapon, inhabiting the sovereign area without a proper visa, murder, assault, sexual misconduct, vandalism, public nuisance, poaching, libel, invasion of privacy, theft, burglary, possession of an illicit substance, malicious destruction of environment, animal cruelty, littering, obstruction of justice, verbal assault with intent to disparage race, species, culture, ethnicity, sexuality, financial situation, gender, intelligence, or dress, and all other codified infractions and felonies within host nation law will be arrested, detained, prosecuted, sentenced and served to the fullest extent of sovereign law.
Waivers concerning personnel issues and all other legal documentation can be found below.
Broadcasting-
The host nations selected broadcast provider maintains complete control over the broadcast and all aspects including preproduction, production, postproduction, editing, scripting, commentation, documentation, dissemination, commercial time and advertisers, guest selection, performance order, opening, closing, and intermission presentation, etc.
National broadcasters that receive the feed will be responsible for translation and localization of on-screen text.
Film and news staff are not permitted to cover the presentation of musical acts. They will be permitted to broadcast their own coverage of the red carpet and closing ceremonies only.
All broadcast equipment and dissemination methods must be cleared with the appropriate law enforcement and broadcast provider beforehand. Any unauthorized broadcasts or equipment will result in the ejection of the nations delegation and their forfeiture of the contest.
All news or film staff wishing to cover their nations performance and activities will be included within the 150 person limit.
All news and entertainment broadcasts must be output through state-mandated lines of communication which will be arranged with the broadcast provider beforehand.
No foreign news or entertainment firm is permitted to broadcast any footage shot by a tourist, citizen, participant, staff member, or diplomatic personage until 1 week after the official broadcast of the contest.
All entities wishing to film or otherwise broadcast content covering any person from their nation, or another participating nation, or the host nation, must submit the associated legal documentation that this person or persons gave explicit consent and otherwise understand that their likeness will appear on national and international television, no matter what they may be filmed doing.
Waivers concerning broadcast rights and all other associated legal and corporate paperwork can be found below.[/spoiler]
[spoiler]
Players are allowed to submit a performance from ONE of their nations. If they submit multiple proposals from multiple nations, one will be chosen arbitrarily.
The video you submit must be of a live performance of the musical work, preferably indoors, to allow voting players to understand the dynamic of the music when being performed on a stage, rather than just the merits of the composition alone. CAVEAT: If a nation does not have a suitable human population to allow for a live performance video, they will be allowed to submit a video that is visually complex and has motion and characters in it, with the expectation that this is not going to be a series of still images overlaid with music.
Your submission cannot exceed six minutes. The Shorter the Better. CAVEAT: If your song is part of a larger video, please indicate the timecode of where it stops and where it ends to help determine if it fits the length requirements.
Your submission must have been conceived or otherwise recorded in the last 40 years. This does not mean the version of the music itself, but rather when the original version came into being.
Pick a new artist if the artist has represented your nation in the previous two Urthvision Competitions.
A preface video is not necessary
Submit your content by a forum PM or by a Discord DM (Furnifold#6535)
Your submission must contain a link to a youtube, dailymotion, or vimeo video of your musical act, the name of the song and the performer, and whether or not you are interested in joining the Urthvision Regulations Committee.
If you would like to be considered for the Best Theme Award, please include a short blurb (no more than five sentences) along with your submission detailing how your submission matches the theme ("Take flight and celebrate life!"). The URC will judge the submissions, and will emphasize submissions that combine their nation's culture with the theme of this competition
Your submission must be in no later than 12 a.m. Greenwich Mean Time (0000 UTC/Zulu) on Thursday June 7th.
Voting will begin on Sunday June 10th at 3 a.m. Greenwich Mean Time (0300 UTC/Zulu) and will last until Friday, June 15th at 12 a.m. Greenwich Mean Time (0000 UTC/Zulu). Winners will be announced on Friday June 15th.
Let me know if you have any questions or concerns! We will be using a temporary event channel in the TEP Roleplaying Server (Discord) for discussion about the Urthvision Songfestival
[/spoiler][edit_reason]URC<>UCR[/edit_reason]