As the night was setting in, the room was silenced. The stadium being completly dark until a light was lightened on a man with a thick beard and a dark grey suit. "Welcome Urth! We thank all of your who have come here in Hirdvik to watch singers from all across Urth." The man yelled. "I am Ivar Ragnarson, and I will be your host for tonight! Now until we wait to the contestants are ready, we have some opening songs from all across Norgsveldet and especialy last Urthvision winner Ivar Rybak!" His voice being drowned out of all the 
applause when he was half way done with Ivar Rybak's name. 
When the applause lowered down, he finnaly spoke again "Anyway with our first opening song comes from the band that has represented Norgsveldet in Urthvision in the past, Norse Warriors!" 
 Wardruna - Rotlaust tre fell (Live in Moscow) - YouTube
As the band dispersed from the scene, Ivar took the scene again. "Now that I would call truly magical, but even more so with the next song called the Elven dance from the singer and noble woman from Dvalheim, her name being Toruun Gulldatur!" 
As Toruun and her dancers went off stage, Ivar spoke again. "Now for probly Norgsveldet most famous singer, and may get his hope of singing in Sani Bursil, IVAR RYBAK!" "Now We just have to wait until the contestants are ready!" Ivar Ragnarson yelled. as he again took the stage.
"Our first contestant will be from the smallest nation in Aurora Blueacia, but despite being a small nation they have been very successful in Urthvision! In fact the last two editions Blueacia was quite successful with slow songs, and it seems they want to capitalize on this and take the win with the song Undo Myself from Sanne Nielson! Which came second in the 2014 edition of Liet and Sanne has also been quite a popular in nations like Tivot. As such give a warm welcome to Sanne!"
 https://www.youtube.com/watch?v=5PQJI-3LW-8
 
With that we turn our attention goes to our next contestant coming all the way from Auraliyu! The singer Brad MarVeva come to us with the song Imouhad from the 2016 album Bogatough. Imouhad is the description of the talks of Vekaiyun Vayanism with a touch of neo-psychedelic which differs from what one may call the usual melodramatic music one might find common in Vulpine Cultures. Brad MarVeva is guitarist from a small village called Sallia in the north west of Auraliyu. Despite his humble upbringing he has amassed national popularity with his now over decade of experience, and maybe after tonight he will become popular around all of Urth! Though I am certain that at least Auraliyuen culture will get more attention after tonight, give an applause to Brad MarVeva!
 
Next up is the Asendavian contestant Artic Martens with their song Arabella! That has become quite popular in Asendavia and its neighbouring nations! Would not even surprise me that our friends in Durakia also would love this song, with its handsome singer and talented musicians it might even get their votes as well! Though we will see if it becomes popular enough to win! This is the Artic Martens!     
For our fourth contestant it is Cole Und Stahl, from Durakia, with the song Diggy Diggy Hole! Which by said name one could guess what it is about, it is a dwarven miner song. Having become quite popular for many dwarves around Urth! With that take up your pickaxe, lets dig dig a hole and give Cole Und Stahl the warmest welcome!    
https://youtu.be/NVhOulJ9lo4
Now that was a rocking performance, but next up comes a singer from down south in New Leganes that is quite the hero there! Mane Fermeli comes from the beautiful city Privétia Tauríllien, which he has lived since he was born in 1986. From the very first moment he was jumping to the fame, he felt the pressure of it. After he had released 3 albums, all of them hits, he fell into depression: he felt he had no time for himself and the people he wanted, and only for work instead. He had troubles with friends and people near him, and turned to have social phobia. In that situation, he was almost killed by the tsunami that hitted the New Leganés archipelago in 2014, and spent a month in the hospital. He felt like he had been given a second opportunity about his life, and started to compose his own songs, now putting his own life above work and fame.  
The song he brings to Norgsveldet, We Are The Heroes, is based upon his experience with depression and the tsunami, with a message that made him win Cukishvision last year and get a ticket to Urthvision. It's a motivational song that talks about how it's only in our hands to choose between surrendering to the evil in our heads or to fight against it and defeat it like the heroes from the myths and legends. It's time to stop crying and to enjoy life, and Máne has definitely come to this contest to make all Urth dance to a victory anthem!!  
https://youtu.be/5sGOwFVUU0I
Next one is from Morstaybishlia and the song many will find 'memey' "You Reposted in the Wrong Neighborhood" but by "Pinkman"   
Next one comes from the beautiful lands of Eyjaria, with a song as beautiful as their singer! Here comes "Troll dalen" made by Eiv Alvlendatur!  
Next comes from Tivot with song wicked! First formed in 2011, Per's Melodic Jaybirds, better known as PMJ, are a rotating musical collective who produce renditions of popular songs based on other vintage genres of music. Here they are performing a vintage rendition of the Tuvalt song of the same name, originally sung by the band Imprison the Banthas.
 Next comes Lapinumbia and there easily to remember song «Gondwana» by Tito     
this is Acronis' submission for Urthvision, under the name "I Can't Wait to Know" by "the Greensleeves." 
Next one on is Kyrloth, who has put an intresting song out this time. Called Nothing's gonna stop me now. Sanira Fósz began her career by busking on the streets of the seaside town of Livetsvaar in the late 1980s with her voice, her guitar, and just three songs under her belt. Now, she's selling out arenas all across Urth and her fifteenth studio album is set for release later this year. The lead single, "Nothing's Gonna Stop Me Now", is all about change and moving on, doing as your heart desires, even when people you used to call your friends want you to roll it back. 
Now more in southern lands to Sokala. Love you till you're old
by Ben Squared
"Love you till you're old" was written originally as a love song for the band's singer Ben Square for his girlfriend but during writing they broke up. So instead this song was written for all couples in general instead.
Ben Squared is an indie band located in Bondoc City, Sokala. They're known for their unusual mix of intruments and a pure-Arcutrian Islander ancestry.
They have won 3 out 5 Sokalan Music Awards: Top Seller Award.   
Now we go west to Novaris, Equatannia which the song Take me come from Delta Rae.  
https://youtu.be/uoOhHIkbMhA
Los Jugadores are a band from Ostradov, Masceola (musical capital of masceola), they all came from lower class backgrounds and met up in Adam West Highschool, they formed their band in 2006 and have been active in events and tours world wide, coming out of a tour from Staynes in 2019. Lets give this band a large aplause"  
https://youtu.be/dnYdCpspAmY
Next one comes from the beautiful lands of Eyjaria, with a song as beautiful as their singer! Here comes "Troll dalen" made by Eiv Alvlendatur!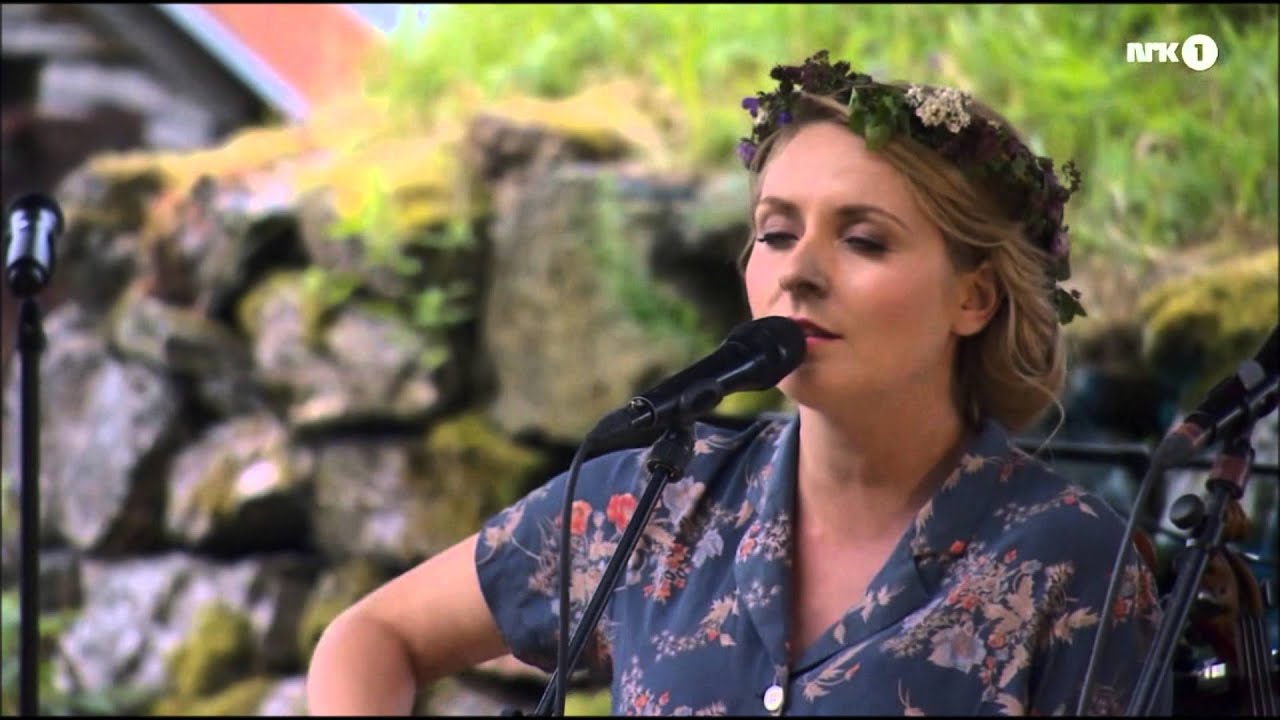 Now that we are done! I will give the audience time to think who they will vote!
Durakia Results
Tivot - 12 Points
Lapinumbia - 10 Points
Equatannia - 8 Points
New Leganés - 7 Points
Acronis - 6 Points
Kyrloth - 5 Points
Morstaybishlia - 4 Points
Sokala - 3 Points
Blueacia - 2 Points
Eyjaria - 1 Point
Voting from Great Morstaybishlia is in!
12 pts: Aconis submission; I Can't Wait to Know by the Greensleeves
10 pts: Durakia submission; Diggy Diggy Hole by Cole und Stahl
8 pts: Masceola submission; Los Jugadores
7 pts: Equitannia submission; Take me come by Delta Rae
6 pts: New Leganes submission; We Are The Heroes by Mane Fermeli
5 pts: Tivot submission: Wicked by PMJ
4 pts: Eyjaria submission; Troll Dalen by Eiv Alvlendatur 
3 pts: Sokala submission; Love you till you're old by Ben Squared
2 pts: Lapinumbia submission: Gondwana by Tito
1 pt: Blueacia submission; Undo Myself by Sanne Nielson
The results from Acronis:
New Leganés: 12 Points
Equatannia: 10 Points
Durakia: 8 Points
Tivot: 7 Points
Blueacia: 6 Points
Sokala: 5 Points
Vultuca: 4 Points
Auraliyu: 3 Points
Eyjaria: 2 Points
Lapinumbia: 1 Point
[broadcast 1346-kr-08-21.13.12]
Tesara Nira
Sund! Hello Norgsveldet! I'm Tesara Nira, coming to your screens live from spectacular Azmarin Zlovskavaar, Kyrloth! Now here on Borea, we always do our utmost to preserve democracy and listen to the will of the people. And who better to do that than the director of the Board of Elections to oversee the televote and make sure the peoples' voices are heard! I present to you: Lokka Silmat!
Lokka Silmat
Look, this is the second time you've interrupted our extremely important duties of upholding the democratic principles on which this great nation was built, and I've told you numerous times I don't do well in front of a camera–
Tesara Nira (interrupting)
Many thanks to the Elections Board for helping us all out with the televote! And without further ado, the people of Kyrloth have spoken, and they say: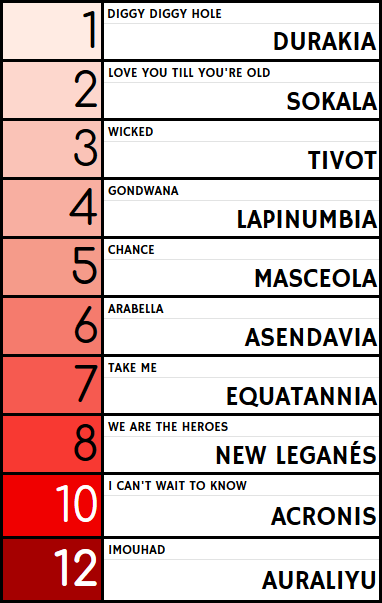 12- Tivot's entry: Wicked! by Per's Melodic Jaybirds
10- Lapinumbia's entry: Gondwana by Tito
8- Acronis' entry: I Can't Wait to Know by The Greensleeves
7- Equatannia's entry: Take Me by Delta Rae
6- Asendavia's entry: Arabella by Artic Martens
5- New Leganés' entry: We Are The Heroes by Mane Fermeli
4- Morstaybishlia's entry: You Reposted in the Wrong Neighborhood by Pinkman
3- Auraliyu's entry: Imouhad by BradMarVera
2- Durakia's entry: Diggy Diggy Hole by Cole Und Stahl
1- Kyrloth's entry: Nothing's Gonna Stop Me Now by Sanira Fósz
From New Leganés to Urth
Cukish points on Urthvision XII
Brought to you by… Pétra Méde and Néla Furtado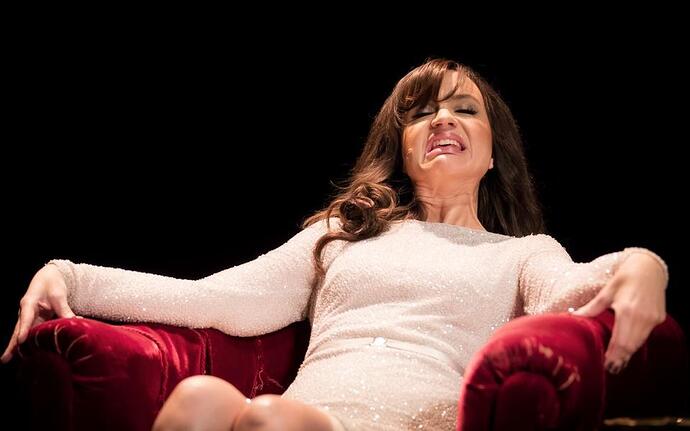 ¡Ryés nátu vedérek, nafióner Urçále!
¡Buenas noches, naciones de la Urtia!
Good evening, nations of Urth!
"It's me, Pétra, striking back on Urthvision!!! This time I've brought my sofa to the stage, such an INCREDIBLE show needs one to be comfortable while it's taking place. I know it's over, but I'm too tired to stand up… Anyway, the thing is we've assisted to another amazing edition, this time organised by our Concordian friends of Norgsveldet, which I'd like to congratulate for their work! I must say I personally love the Norgsveltian folk so much, so having folk songs in the introduction and also the first Norgsveltian entry on Urthvision, Norse Warriors, has made my day better. And what about the entries… Woah. I'll never get tired of this show. Especial mention to the hero of our time, Máne, doing such a great work with the song and with all those little people flying with balloons, they were so cute! And what about New Leganés, you may ask? Seems like people from all around the Commonwealth share my opinion about the show, as the audience has reached the impressive number of 4 million, meaning that, once more, more than 50% of the Commonwealth population has seen this event!! There's also many people that has voted, so… Yeah, it is the moment. It's the turn for the last Cukish entry, our amazing and beautiful Néla Furtádo, to come here and share the Cukish votes on Urthvision XII!!!"
https://adv.hola.com/imagenes/noticias-de-actualidad/2008/02/23/nelly-furtado.jpg
"Aw, come on Pétra, you always so lovely. Good evening Urth, I hope you've had a great time with the show. I have right here the Cukish votes, but before showing them, I must wish the best of lucks to the entries and to Máne, hope he gets lots of votes!! This time the positions haven't been as tied as others, but there have been tough battles between positions as well. Seems like one cannot avoid using war language in these days… Anyway, this is not the place for that, it's the global celebration of music and culture!! And New Leganés has participated on it, as these votes proove. Here they come!!!
The country that takes the first Cukish point is… Kyrloth!! (1 point for Kyrloth)
Then comes Ben Squared from Sokala, and takes our two points!! (2 points for Sokala)
The 3 points must go to Aurora, with Tivot being the destination for them!! (3 points for Tivot)
The song is called Gondwana, but our 4 points aren't going there. They're going to Lapinumbia!! (4 points for Lapinumbia)
After this, we continue in Novaris but our 5 points are going underground this time, because they go to Diggy Diggy Hole from Durakia!! (5 points for Durakia)
We must now go back outside but continue in Novaris. This time, Equatannia takes the 6 Cukish points!! (6 points for Equatannia)
Time now to leave Novaris and sail through the northern ocean. The folk song from Eyjaria makes its country the destination for our 7 points!! (7 points for Eyjaria)
And now, we enter in the top 3!!! Let's take a look at where this trip takes us to…
The Cukish 8 points have a flight to Gondwana, with destination… Masceola!!! I'm happy somebody apart from us finally sends a song in Impelanzan… (8 points for Masceola)
This leaves us with 5 possible countries to take the 10 and 12 points…
The 10 points are going to a very specific point in Aurora… It's where this contest began, Blueacia!!! Such an impressive and minimalist performance!! (10 points for Blueacia)
AND FINALLY, the highest points, 12, are going, from our labrynth of islands, to a bit north, and then to the west, again to the continent of Gondwana. I can't wait to know where they're going to. Their destination is… Acronis!!! Congratulations to the Greensleeves, indeed they've performed a great song which will surely be in the Cukish hit ranks for some time!!" (12 points for Acronis)
"It's time to leave now, the results have been announced. Hope next edition is as fine as this one, but I don't have any doubt after so much time commenting Urthvision. For now, thanks again to the Norgsveltian hosts and to all the entries for their amazing work!! Good evening, good luck, and see you in Urthvision XII!!!" Pétra ended.
The votes from Tivot are in!
12 points to New Leganes!
10 points to Blueacia!
8 points to Durakia! (OOC: The Yogna(u)ght in me couldn't bear to see it be lower rip)
7 points to Acronis!
6 points to Vultuca/Masceola! (OOC: Probably Vultuca since name change but just to be safe)
5 points to Auraliyu!
4 points to Equatannia!
3 points to Eyjaria!
2 points to Sokala!
1 point to Asendavia!
Lapinumbia: 12 Points
Equatannia: 10 Points
Blueacia: 8 Points
Kyrloth: 7 Points
Acronis: 6 Points
Sokala: 5 Points
Durakia: 4 Points
Auraliyu: 3 Points
Eyjaria: 2 Points
Tivot: 1 Point
12- Tivot's entry: Wicked! by Per's Melodic Jaybirds
10- Lapinumbia's entry: Gondwana by Tito
8 - Bluaecia's entry: Undo Myself by Sanne Nielson
7- Acronis' entry: I Can't Wait to Know by The Greensleeves
6- Asendavia's entry: Arabella by Artic Martens
5- Auraliyu's entry: Imouhad by BradMarVera
4- New Leganés' entry: We Are The Heroes by Mane Fermeli
3- Morstaybishlia's entry: You Reposted in the Wrong Neighborhood by Pinkman
2- Kyrloth's entry: Nothing's Gonna Stop Me Now by Sanira Fósz
1- Durakia's entry: Diggy Diggy Hole by Cole Und Stahl
Vultucas results are finally in, after a delay from the wc:
New Leganes - 12 Points
Blueacia - 10 Points
Durakia - 8 Points
Lapinumbia  - 7 Points
Kyrloth - 6 Points
Sokala - 5 Points
Eyjaria - 4 Points
Acronis - 3 Points
Morstaybishlia - 2 Points
Tivot- 1 Point
Auraliyu
Sokala - 12 points
Acronis - 10 points
Kyrloth - 8 points
Asendavia - 7 points
New Leganes - 6 points
Durakia - 5 points
Tivot - 4 points
Eyjaria - 3 points
Blueacia - 2 points
Equatannia - 1 point
Eyjaria points giving
Equatannia -  1 points
Tivot - 2 points
Kyrloth - 3 points
Auraliyu - 4 points
Blueacia - 5 points
Sokala - 6 points
Acronis - 7 points
New Leganes - 8 points
Asendavia - 10 points
Durakia - 12 points