Voting Statistics - TEP Delegate Elections
Statistics on elections since April 2012 in The East Pacific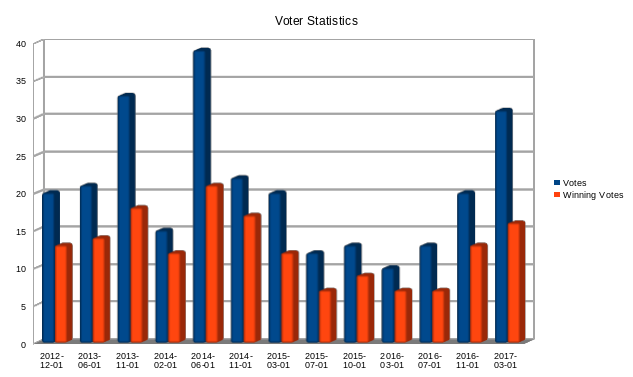 [th colspan="4"]Voter Statistics[/th]Time
2012-12-01
2013-06-01
2013-11-01
2014-02-01
2014-06-01
2014-11-01
2015-03-01
2015-07-01
2015-10-01
2016-03-01
2016-07-01
2016-11-01
2017-03-01Total Votes
20
21
33
15
39
22
20
12
13
10
13
20
31Winning Candidates Votes
13
14
18
12
21
17
12
7
9
7
7
13
16Winning Candidate
Todd McCloud
AMOM
Bachtendekuppen
Bachtendekuppen
Ramaeus
Xoriet
Ramaeus
Ramaeus
Prussia
McStooley
McStooley
Aelitia
Hobbes
I like an interesting statistic once in a while. I decided to do a quick on TEP's elections the last few years. Caveat: I'm not a professional statistician, so take it as it comes.
In the graph and table you will find the dates of Delegate elections since April 2012, the total votes per election, the number of votes for the winning candidate and the winning candidate. This way the data shows both the evolution of voter turnout, the amount of votes procured to ensure the election win and their relative relation.
Overall voter turnout varies between 10 and 20, with 3 notable and exceptional elections. Average voter turnout is 20.96 Citizens voting per election. An election win is on average secured by procuring 12.76 votes. The June 2014 election as well as the November 2013 and March 2017 elections had an unusually high voter turnout. Respectively 39, 33 and 31 Citizens voted in those elections. The winning Candidate procured, in said elections, respectively 21 (Ramaus), 18 (Bachtendekuppen) and 16 (Hobbes) votes.
The elections from July 2015 to July 2016 show an unusually low turnout: the July 2015, October 2015, March 2016 and July 2016 elections featured respectively 12, 13, 10 and 13 Citizens voting. Winning candidates gathered respectively 7 (Ramaeus), 9 (Prussia), 7 (McStooley) and 7 (McStooly) votes.
We can see that voter turnout and the amount of votes needed to ensure an election win, over time, has a wave-like figure. It would seem that, just like it goes with general activity, voter turnout goes up and down. Since I don't have numbers of general 'activity' in TEP over the same period of time, I can not conclude they tie together. It would however make sense.
A second observation is that the elections without incumbent Delegate tend to have a higher turnout than elections with an an incumbent Delegate. Examples are the November 2013 election, and the June 2014 election.
The East Pacific has currently 5579 resident Nations, of which 500 have joined the World Assembly. The TEP off-site forum has 378 registered Citizens (including all those with various official functions on the Forum). Directly or indirectly, 32 Citizens are currently active in the TEP government or forum administration. 91 registered members have been active on the off-site TEP forum in the last month.
As such we can conclude that 6.78% of resident Nations have registered themselves as Citizens on the TEP off-site forum. Of those registered Citizens, on average 20 vote in the regional Delegate elections, or 5.54%. A winning bid for Delegate is, on average, secured by procuring 12.76 votes, or 3.35% of registered Citizens.
Yet it would seem that currently TEP is in a more active period than it was in 2015 - 2016, with voter turnout swinging upwards, from on average 12 Citizens voting, to 31 Citizens voting in the March 2017 election. In the current elections (July 2017), 19 Citizens voted so far, which is an average voter turnout.
In conclusion, I believe we should be modest. The East Pacific as a region has an incredible amount of Nations. Most nations choose not to register themselves on this forum. The TEP government essentially boils down to give or take 30 interested and involved Citizens. Elections are generally decided by 10 to 20 votes. These are not necessarily negatives: NS, and by extension TEP, is a game with voluntary participation. The TEP government acts as it seems best to protect and foster the entire region of TEP and its population. So far it worked out pretty well.
Data and article by Bachtendekuppen of TEP