This is part 4 of a series which follows on from His Enlightened Reign (part 3), A Bingolian Invitation (part 2) and Better the Devil You Know (part 1).
---
(EDIT: The year should be 2023)
(Written with Oan)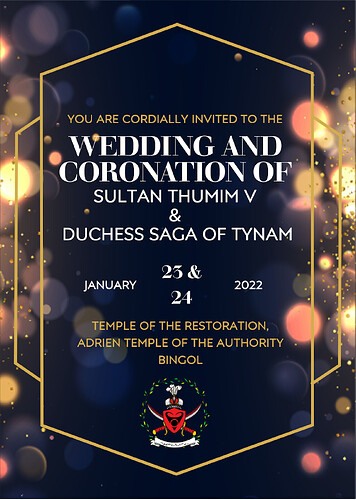 On behalf of the Throne, the Crowning Committee writes to extend a warm invitation to Your Excellency to attend the royal wedding and formal coronation of His Imperial and Royal Majesty, Thumim V and Saga, Duchess of Tynam and Storlund. It would be our nation's great honor to have you and your guests or representatives join us on this joyous occasion.
The two-day event will take place at the Temple of the Authority and Temple of Restoration, respectively. Please find enclosed our invitation with further information and itineraries.
As a high volume of traffic is expected in both Adrien and Bingol, Attendees with special travel needs or large accompanying delegations are urged to contact the Committee so that we might render any necessary assistance and arrangements.
We look forward to welcoming you to the Sultanate and celebrating this special occasion with you.
With warmest regards,
The Crowning Committee
Schedule of Events
(Local Time)
Monday, January 23, 2023
9:00 AM - Temple of the Authority opened for guest arrivals
11:20 AM - Imperial Entrance
12:00 PM - Wedding services
1:00 PM - Conclusion of services
6:00 PM - State banquet at Sultana's Palace
Tuesday, January 24, 2023
6:00 AM - Temple of the Restoration opened for guest arrivals
12:00 PM - Coronation ceremonies
2:25 PM - Start of Imperial Procession, return to Bingol
6:00 PM - State Banquet II
—
Letter after letter was arrayed before her across the table, pending a final review at the Duchess' request. Written in dozens of languages for leaders and officials across the country and the world, the invitations all bore the Packilvanian symbol of state, while the letters themselves were emblazoned with the Bedonite dynasty's head-and-moon alongside the two silver eels of Tynam. All these and more would soon fly across the endlessly churning postal networks to be opened in embassies and palaces.
All the rest would reside in the history books.
Saga paused to pen a typographical correction to an Älemsi-language missive, before slamming her seal down upon it.